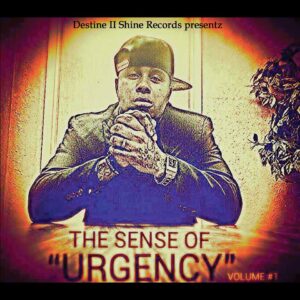 You have to appreciate people who are sincerely humble as a child. Oquine Nickles, now known as Urgency, is one of those people. He shared with me after the name change that God revealed one of his purposes in this ministry. It is to remind people that time is drawing near and we must move with a sense of urgency. So, with new purpose and a new name, it was time to address the people. He did so with his album, Sense of Urgency.
He started the album with the Introduction. He was really going in about the choice we have to make and how we need to do better as people. He was truly expressing the sense of urgency that needs to be taken in the day and time we live in. He linked up with Destine II Shine Records labelmate Trinity for the song On The Road Again. They shared experiences and situations that occur while operating in ministry when traveling. Our commission is to witness to the lost that they may be saved. This song highlights a few of the steps involved while witnessing on the road. Urgency shifted gears and began discussing the amount of value people put on material things. He shared his concern for how greedy and possessive people are with the things they acquire. He asked the question, What is the profit? Is it worth it? Is it worth your soul to get the things you want? The message is clear, pursue God and then the other things will follow.
What is the profit?
The weight of the world is on my shoulders
But I cast my cares and my burdens over
His yoke is easy and his burdens light
I get frustrated easy and I be wanting to fight
It's just not right when I'm not in his presence
So I keep a praise on me his presence I reverence
But money all day was my motto
Running after money was desperate to hit the lotto
The love of money is the root of evil
Selling crack to my auntie killing my people
This thang is bigger than what I see
This murder in my city deep rooted oh yeah a beast
The anti Christ say he bringing peace
Well Jesus got a sword in his mouth, he coming back with the fire Jesus brings the heat
Ain't no water in sight that can stop it
Ain't no stop drop and roll, you work for this profit
This Year was him speaking to his situation and the situation of any of the listeners. He was saying this is his season and was claiming it. He was careful to point out that there was action with the faith. You can't just name it and claim it. You have to put some action behind it. You have read, pray, study, fast, believe and listen for God. More importantly, you have to have the spirit involved and that may require shifting the atmosphere, as he sang it with an auto tuned voice effect. I could really appreciate the song Forgive Me. It was an sincere apology to the Lord for the mistakes he made throughout the years. I think the lesson here is that we all need forgiveness and God will give it if we humbly and sincerely ask for it. It takes a big person to openly confess the mistakes they've made and turn away from them. He closed the song out ministering from the heart. He said the blessing is in the obedience. Definetely a worship song. When I was on the block, they was talking about me…Urgency sings using Autotune. They talk serves as a reminder to all of us who deal with people who always have something to say. People will always talk about you. Unfortunately, some good and some bad. As Christians, we have to remember how bad Jesus was talked about and since we represent him, we will also be talked about. Period.
It's Over discusses putting God first and being done with the wrong way of living. Transformers, featuring Gospel and Trinity is a song about changing your life for the better. I'm Tired is one of those tracks we all can relate too. How many of us are just tired of the struggle, tired of the hatred, tired of making mistakes and really just tired of living life my way and not God's way. A-Kaza and H.A.M were featured and they killed it. Check the video below. The album closes out with a Head Held High feature on Love Me which is a reminder that Satan is here to steal, kill and destroy. He is a liar and a deceiver. He say and do things that make you feel loved but its really a trap to keep you away from God and away from finding your purpose.
Sense of Urgency is a must have album. It is an annointed, soul touching & spirit filled album stuffed with ministry, great features, ridiculous lyricism, fire beats and a powerful message. The time for us as believers to make a difference is now. The time for non-believers to accept Christ is now. In all these things, we must have a Sense of Urgency. Get your copy today.