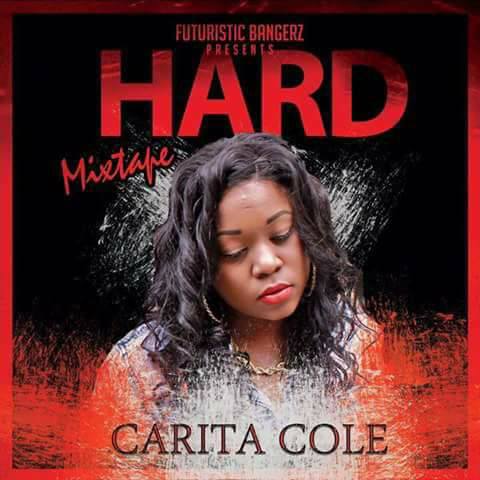 First off, I need to give a huge shout out to my boy Derrick Chism, aka Phurious Styles. Earlier this year, like back in March he put me up on Carita Cole project Under Construction. After that review, I was fan. She been in the mix ever since. When she decided to follow the album with a mix tape, I had to get it. The mix tape is called Hard. It actually sound like she free styling most of it.
It starts off with Back Seat. It is the intro song. It's about not settling. It's about being the focus and not taking the backseat to what is important. She was really addressing the haters on this one. Imma Get It is about getting the blessings that God has in store for us. She saying we've been blessed and put in a position to get it…so…Imma get it.
Made It is about accepting the fact that God has been good. We not eating the same, not dressing the same, not driving the same…all cause of God's goodness. Because of what he has blessed us with, wet have to go hard… we have to keep killing the game. Be Happy is about choosing to be happy. It's about focusing on the positive and not the negative. She say, "I just want to blessed"
Lights Camera Action is expressing how making music and going hard for the Lord is her passion. It don't matter what you think or how you feel, this is what she is passionate about. Panda Remix was simply Carita letting the world know she got bars. She crashed the track.
Royalty, one of my faves, is basically understanding that we are royalty in Christ and should act like it. Own it. Walk around in it. Embrace the royalty of being in Christ. Believe Me is a song telling everyone that, she don't have no reason to lie. Everything about Jesus is true and he is guiding her because she believes. She saying, if you having doubts, believe her.
All The Way Up was another one of those opportunities to showcase lyrical skills over a popular track. She killed it.
Dig these bars from Royalty…
I'm going through something, I'm make it so my life is gonna turn around
look at jeans look at my new whip these haters gonna turn around
they don't know me they just think that they do because they know my past
american express I'm accepted in every hood just like some cash
yeah, they know my name
they crazy my flow insane
my call of duty is the kill the devil so you know I ain't playin no games
I made a 180
trappin on I-80
I'm on a new level
go tell that old lady
I was so happy I wrote that, that big check I was turned up
so stressed now I'm blessed like Migos I'm piped up
I changed up like a slot machine now haters see and they light up
I was leaning back like Fat Joe now haters see me all the way up
need real people on my team
cause I have a dream
you can be Martin Luther, I'm Coretta Scott so I need a king
put my faith with my works
Imma diamond from the dirt
when you see me in the streets then ya feelings gonna hurt
Man, I love her flow. She has this serious yet animated delivery. She chose to spit about some issues she's been dealing with on this journey we call life.  I'm almost certain most of this is a freestyle.
At the end of the day, fighting temptation is hard. Dealing with haters is hard. Earning respect in this game is hard. Trying to live the life you feel you deserve is hard. So…she dropped this Hard mix tape…as a reminder that nothing is to hard…for God.  Download it FREE at DatPiff