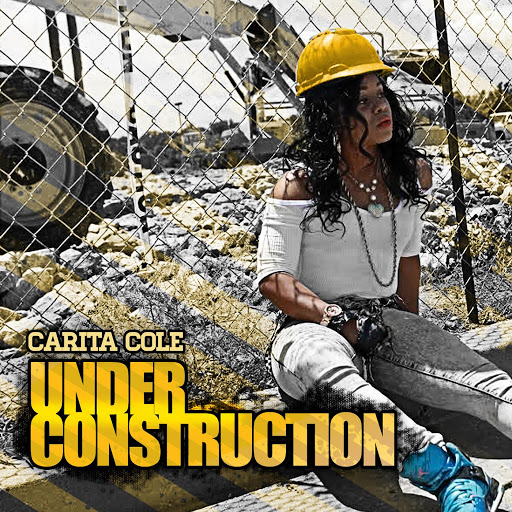 Carita Cole has several projects in the Google Play store and this was the latest.  It's a 2015 release called Under Construction that has 20 tracks discussing everything from being judged and still having faith, to saying no to premarital sex.
Under Construction is the intro and title cut and was about the fact that we are a work in progress.  God can build you up just like everybody else. We are all under construction. Praise with me is a song about praising God because of all the things he has blessed us with. All I Need is focusing on the mere fact that, no matter what is going on, Jesus is all I need. Hallelujah is about just acknowledging what God has done for you and giving him the highest praise.  High is understanding that God is already blessing you.  She is asking to go higher in the Lord.  I Made It is about showcasing what all God has brought you from.  She discussed all types of situations where God was keeping her like her car accident, late bills and more. All I Know is informing everyone that she is all about Jesus…noone else.
Don't Judge Me (my favorite on the album) is simply telling people, ain't none of us perfect and no sin is bigger than the next.  Don't judge me when you don't know me. Only God can judge me. Yeah Imma get through this is about recognizing that God has brought us all through so much.  Whatever you going through right, he will bring you through it.  I Wanna Be Like You is basically a song professing to the Lord that she wants to be like you.  She didn't rap on that one…she sang.  Carried a nice harmony too.
Churchin was a song that we are all to familiar with…especially those of us who rap and show up to church in our best…even though my Sunday best might be totally different from your Sunday best. She talked about how some church folk will hurt you before they help you. She say if you tired of church, hold on to Jesus. Put it in my past is for everyone always bringing up previous faults. God has already forgiven me.  Put it my past.  Don't Look Like What I've Been Through is a reminder that God has brought her along way, but she don't look like what she been through. I'm Not What You Looking For is a message to the men who not trying to do things right.  She say ain't no motel rooms, late night visits, phone numbers or none of that.  You can't use her and take advantage of her body.  She said marriage first.  She has to keep her body a temple and not messing that up for anything.  She has several other songs like, Nobody Like You, Imma Get My Blessing and I Bet I Transform which were all very uplifting and encouraging reminders to focus on Jesus.
Dig these lyrics from Don't Judge Me.
This is the truth and I hope that you feel it
my sin is no bigger than your sin committed
I don't condone no sin that committed
but don't try to judge when you see me fall in it
don't ever ever try to judge me
I thank God how he made me
you just like them pharisees
go behind my back and talk about me
you knew what its worth you would tend to your business
worry bout yourself and stay out of my business
nobody is perfect and Paul is my witness
living for Jesus bout my fathers business
judging my book and you didn't even read it
oh you need to read it
you judging my cover from things that you see
but you don't know about me
its something I'm learning its something I'm trippin on
how can you talk about what I do when you steady doing wrong
you know thats real you know thats key
don't sit with ya face like that cause you know God don't like ugly
Carita smashed the album.  She used her raspy voice and ridiculous word play, mixed in some crazy punch lines and made the entire message about getting closer to Jesus.  You add in her playful delivery and some platinum level production and you get…Under Construction, by Carita Cole. You need to go get that.