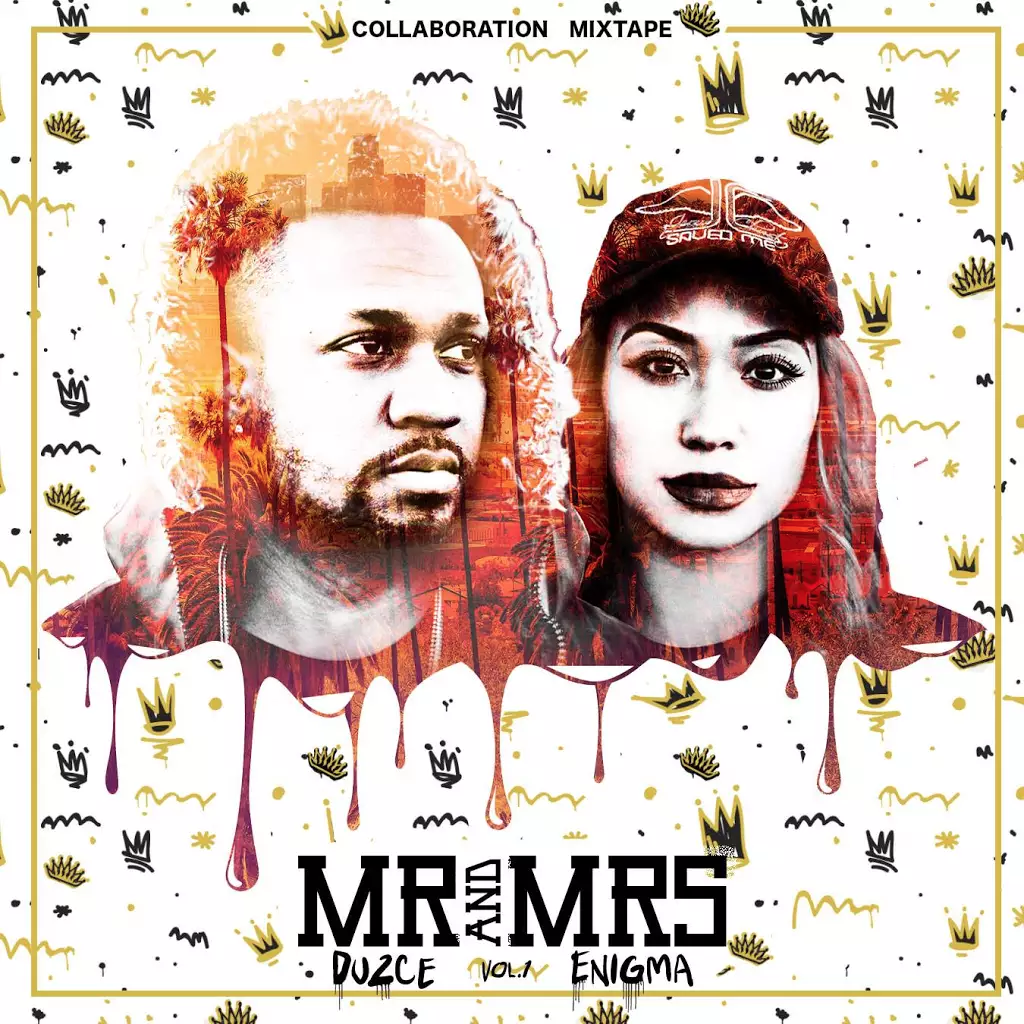 I found this free download from Du2ce & Enigma called the Mr and Mrs Mixtape.  Du2ce and Enigma are a husband and wife team of Christian rappers. Together they represent for the Lord, minister to the lost and crash beats. They did all of that on this mixtape.
It starts off with Good Vibes. It's a track about being content in the Lord. It's about staying focused on Christ and grinding with the wifey. All good vibes. The Cypher pt 1 is some hard bars about keeping everything about Christ and recognizing how great he is.
Lit talks about how you have to be either hot or cold for the Lord. There is no in between…they get spewed out. They saying they lit…which means on fire for the Lord.  Christ Gang is simply representing Christ and moving in the knowledge of him. Our actions as part of Christ Gang include praying for people, laying hands on the sick and speaking power to people.
The Element was a mix of normal speed and screwed verses from Du2ce and Enigma about staying in the element of Christ and staying away from the hate. The Cypher pt 2 was a continuation of hard bars about keeping the faith.
Sneakin was really about staying focused on the mission. It's about praying and saving souls…no sneak Christians. Summer Sixteen is just them spitting over Drake's Summer Sixteen. They did the same over Drake and Future's Jumpman track and Drake's Free Smoke too.
Dig this verse from Lit
The word is a hammer I'm hammering
never freeze up like a manikin
if so the results could be damaging
go hard we don't play no shenanigans
family business and industry enemies
its all in Gods hands we don't trip cause he handle it
I am a rapping evangelist
He lit me up like a candle stick
on this tight rope watch me balance it
we did not come here to run the game
no, we came to damage it
bring out the tools and dismantle it
I know the plan sound so scandalous
watching their moves like an analyst
we live out the spirit no cannibis
Jesus the truth want the proof come and challenge it
follow the Christ or you lay down
repent your sins or you stay down
they feel like his story is played out
but I feel like a kid in the playground
spirit on 10 so I stay loud
brothers in fed growing cold knowing he can come any day now
they gonna trip when the play out
but Imma be lit when the play out
That's not even the whole verse…homie killing it though. I didn't write a verse from Enigma, but she goes in too. They have to very different styles that totally compliment each other. She is more serious going in bar for bar while he is a bit more animated hitting you with back to back punchlines. It's a great mix, especially since both of them are focused on the message of Christ.
It's only 10 tracks on the project. It's a good listen though. The messages were on point. They both crashing and I think what got me the most was, the amount of respect they have for each other, in regards to the music and what we believe. It's definitely a good grab, and its free.