First let me say, it feels good to listen to a female rapping the Gospel (shout out to Christ Clear & Ameera York). I've known K-Mor for a bit but never really knew her. We would occasionally see each other on the battlefield at various gospel rap events. The last event I saw her at, she ministered this song called "Bounce Back", which I now know is called "Resilent". Last week, I saw the video for it (watch it below). That song jam…it's a hit to me. Let's be clear though, K-Mor's ministry is more than just the music. I've heard her testimony and after listening to this project, I feel I know her much more.  She has life experiences to help all kinds of people and her testimony is powerful. This album is one out of three projects she has released.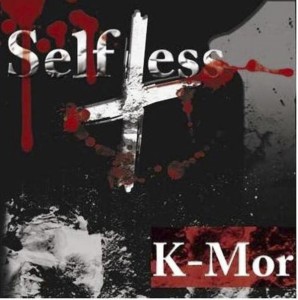 Selfless 1 tells the story of a woman from Studewood TX whose belief in Christ and faith in God sustained her from the trials life has to offer. She has an old school kinda flow with some new school lyricism. She rides the track well and on a couple different songs, I found myself unknowingly bobbing my head. There's one song called "God's Goodness". It might be my favorite…
I cried out to Jesus please save me
I refuse to let satan enslave me
Now I cling to the gift that God gave me
cause he went from the cross to the grave for me
when I think of his goodness I cry happy tears
he erased all my sins and removed my fears
now this joy that I have can't be erased
and the God that I serve can't be replaced
his goodness and his mercy both will endure
if your sickness is sin he has the cure
his everlasting love is right and pure
since I have him in my life I'm so secure
As I continued listening, I found myself doing the Dougie to "I can do all things". "Thank You" is a personal testimony of her life and the things God has taken her through. "Give The World A Hug" talks about some of the issues in society today and how spreading love could fix some of the problems. "Family Secrets" discussed some of the issues families go through like abuse and incest. She has a song called "Assemble" that I really liked. It encourages us to gather together in his name. One thing that I really liked about the entire project was that each song has a background scripture. More importantly, the scripture actually supported the song. She remained on topic and delivered a clear message. I wouldn't mind hearing her preach a sermon.
The subject of the songs and concepts she used work extremely well. The production was dope. The beats were jamming and felt appropriate the songs. Selfless 1 is great project. I encourage you to check it out. I purchased mine from CD Baby. When I say God is good, please say all the time.