Message: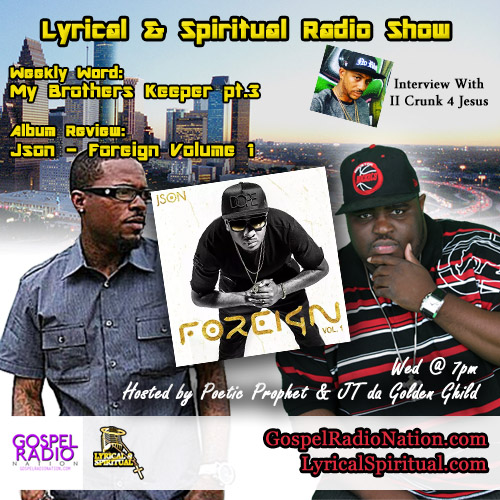 My Brothers Keeper part 3
Point 1: Set You Up
Point 2: Set The Trap
Point 3: Set It Straight
Point 4: Another Setback
Summary:
We learned in this episode people who are genuinely trying to look out for you can also be the ones to set you up. They may have good intentions even though you aren't aware of their motives.
Album Review: Foreign Volume 1 – Json
Foreign Volume 1, is a new and trendy project. Json kept the focus on Kingdom Business front and center using trap and new age type beats…read more
Interview:
II Crunk 4 Jesus discussed the #NoRivals tour, how the #DabOnDaDevil song came about, power moves being made with top infuencers in the city and why he's dedicated to outreach ministry.
Playlist:
Song 1: Snatch Em Off – II Crunk
Song 2: Dearly Departed – Reconcile
Song 3: Jeremiah Fire – God Son
Song 4: Heavenly Army – J Monty
Song 5: Reign – I Am Justified
Song 6: Part Time Christian – jDab
Song 7: Flexin On Em – Joshua 168
Song 8: Lies – Sicily
Song 9: Message – Feet
Song 10: On The Regular – AJ McQueen
Song 11: Foreign – Json
Song 12: Struggle – Json
Song 13: Love Me – Json
Song 14: Necessary – Json
Song 15: Ohh Yeah – Json
Song 16: Live On – Json
Song 17: Whoa – Json
Song 18: Civil – Json
Song 19: Dab on the Devil – II Crunk
#LyricalSpiritual 37

Posted by Charles Lewis on Wednesday, November 30, 2016