Message: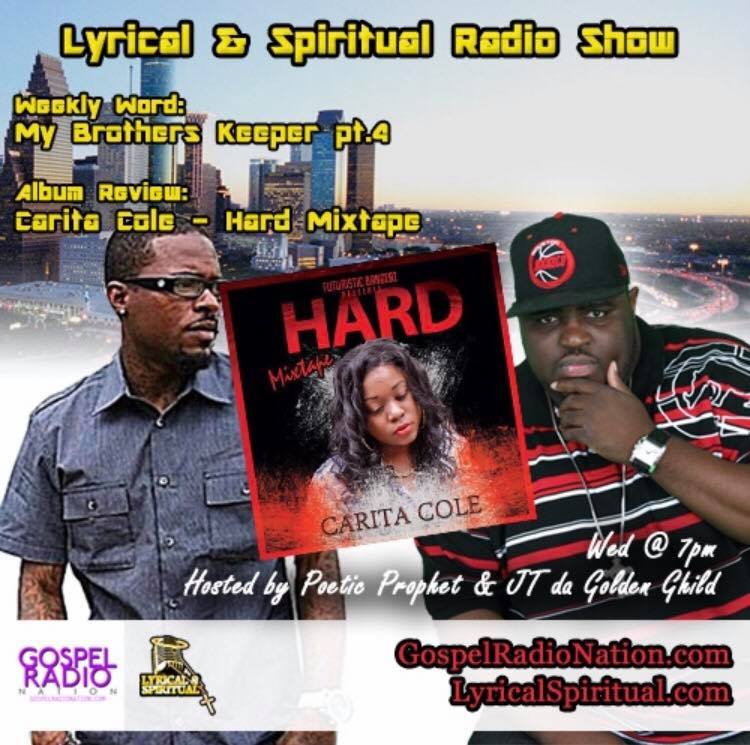 My Brothers Keeper part 4
When being your brothers keeper and taking care of your family, there are a few things you have to do, especially when things aren't going the way you intended.
Point 1: Surrender
Point 2: Sacrifice
Point 3: Summarize
Point 4: Separate
Album Review: Hard – Carita Cole
The Hard Mixtape goes hard…no pun intended.  Carita took the time to kill some tracks everyone is familiar with while discussing topics we all dealing with.  Read more.
Interview:
Carita Cole
Playlist:
Song 1:  Preacher Man – Canton Jones
Song 2:  Fight – Rifica
Song 3:  Don't Judge Me – Carita Cole
Song 4:  Winning – 5ive
Song 5:  Preach – Feet
Song 6:  A Good Day – Q stone
Song 7:  Prayers Up – Bizzle
Song 8:  Gucci Louis Prada – I Am Justified
Song 9:  Necessary – Json
Song 10:  Grass Ain't Greener – Mouthp3ice
Song 11 –  Royalty – Carita Cole
Song 12 – Made It – Carita Cole
Song 13 – Back Seat – Carita Cole
Song 14 – All The Way Up – Carita Cole
Song 15 – Believe Me – Carita Cole
Song 16 – Lights Camera Action – Carita Cole
Song 17 – Panda – Carita Cole
Song 18 – Imma Get It – Carita Cole
Song 19: Dab on the Devil – II Crunk
#LyricalSpiritual 38

Posted by Charles Lewis on Wednesday, December 7, 2016