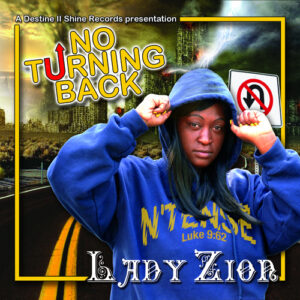 With Hip Hop being so male dominated, it was great to listen to a female rock the mic about the Christ. I find it amazing how God presents his message in different ways with different people. This time he used a Louisiana native with a childlike voice and animated delivery to bring a message to his people. The message came in the form of a mixtape called No Turning Back and includes a slew of down south bangers and inspirational melodies about following Christ.
It starts off with Spirit Led Leader which is a somewhat playful song with a serious subject about operating in the spirit and really just letting the spirit take control of you. She said "loose as a goose is the spirit in my body". She also took a few bars to discuss the current state of the world with the increase in homosexuality, the illuminati and more. Her plea was that leaders need to step up more. If anyone is a leader in ministry, I hope they are spirit led.
Soul Plea was a song that was really about crying out to the Lord and making him the priority. Nothing else matters if your soul not right. Lady Z explained how good God is to her and why she wants and needs more of him.  Check the lyrics below…
Soul Care is a crunk party song that describes the feelings of being a new creature in Christ. It features the homie and Destine 2 Shine Records labelmate, Urgency, who did what he does best, glorify God and simultaneously kill tracks. They dealt with the issues of really removing self and focusing on God.
I could identify with Neva Eva because I felt the same way. Time is too critical and the harvest is too great for us to playing with this ministry or be in it for the wrong reasons like money and fame. We must stay focused on the task at hand.
She featured my brother Trinity and H3 on a song called Look The Same and it asked one really simple yet extremely important question. If you didn't know Christ, would your life look the same? They all wrecked it by highlighting how their lives would be different had they not found Christ. This might be a good time for all of us to reflect on that same question and more importantly, what your answer is.
Soul Plea
I was saved by grace
all the people around
I used to be real scared but I ain't scared now
this is a moment with the Lord when I'm up on the mic
People like to spectate I pray they soul get right
You can make the preacher preach
You can make the singer sing
You can make the rapper rap
bring our blessing and clear our sin
1 word 1 name that great I am
these legions of demons
my soul it be fiending
I want more of you Lord I need less of me
When I die to my grave I won't need no weed
I get high off the spirit
I need it
I feel it
this course I have maintained is all cause I live it
I'm gifted
You missed it
You must be afflicted
The songs that I write is annointed
get over it
God will bring more of it
Like it or not
You say sing a new song and thats all that I got
The Bible says that all have sinned and come short of the glory of God. That's important to remember because at times we begin to think that we are doing everything righteous, and that's just not so. Z came on to say she wears an "S" on her chest because she's Sinful. They key is understanding that she isn't bragging about being sinful, but actually confessing that she messes up and needs help. When was the last time you confessed about your sins?
She has a song called Kill It, and that was exactly what she did…period. She dropped some serious bars about being free in the Lord on a track called Take Me. Staying the course, Come Home was a message about wanting to be closer to Christ. Similar to Come Home, Need You Now was Z's way to invoke the spirit to help fight the demons and thoughts that tend to hold us back from what God has for us. Champion is that song you listen to when God brought you through something and you knew that he would. The project ends with a song called New Whips Fly Kicks which actually isn't about having those things but more about why material things like that shouldn't be glorified the way they are today.
Lady Zion and the good folks at Destine 2 Shine Records put together a great mixtape packed with ministry, Bible lessons, tight beats, word play and more. She found a way to deliver a powerful message and have fun with it at the same time. Download it free at DatPiff and get your copy.