I know what yall thinking…how is Chuck going to review his own album. Well, I just released it and if you have a copy of it,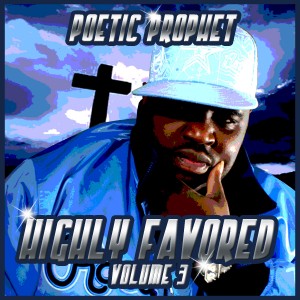 feel free to post comments about your thoughts.
The album is called Highly Favored volume 3. I spent alot of time coming up with concepts and getting the right features for all of the songs. I wanted to feature most of the Christian rap artist that I consider family here in the Houston area. The album has everyone including H.A.M, Mama's Boy, H2G, Immortal, Educator & Trnity. I tried to create songs that could help most people in most phases of life. There are songs like "Praises Go Up" which talks about why you should praise in the midst of problems and "Love Triangle" which is a song dedicated couples. Everyone was familiar with "Walk Like Christ". At the end of the show, everyone really commented on "Patiently Waiting" which is about understanding that God works in his own time and you have to be patient and allow God to work in you and then he can work through you.
I know I can take it but I'm feeling like I can't
cause I'm broke on payday so somebody ain't
finna get what they want cause these is hard times
decisions to make, pay lights or give tithes
I drop to my knees bow head and closed eyes
I thank God for what I got and then rise
and the I try to arise from the demise
my old man wise, he say they blessings in disguise
God gave you the necessary supplies
to deal with lows and highs
so chill with the cries,
the limit is the skies, so keep giving tries
you gotta dry your eyes and prepare for your rise
After listening to it again after the release celebration, I noticed some things I would change. I'll save those for the next
project. If you can, check it out and tell me what you think.
If you interesting in purchasing the album, the Poetic Prophet website.