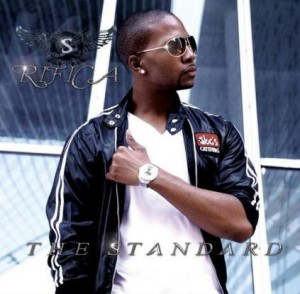 I heard about Rifica years before I finally met him. He was featured on projects with artist that I dealt with frequently like Educator and Immortal. I was in the studio dropping my verse on a song for Educator's new project when in walks Rifica. I was immediately like, man hold up…I know you. We had been in each others presence on different occassions before, ministering through music. He was there to work on a different song for Educators project. After the session, I was like, "Rif, let me get a copy of The Standard".
After some small talk and exchanging of information in the parking lot, we swapped CD's and I got in the car. I immediately ripped off the shrink wrap and popped the disc in. The first song called "Standard" came on banging. I was impressed with the sound and quality of the production and mix. The album has a wide range of music. It has everything from dance songs like Gospel Step to songs about being blessed like Prosperity. What I really appreciated was the fact that he opened up about his personal life in a song called Girl Problems. It's rare that artist will highlight the real issues that troubled them in the past. He understood that his story could be a blessing to someone else in that same situation.
Overall, it was great album. The beats were jamming. This mixdown sounded very professional and Rif smashed the lyrics…
who am I, The Rifica call me Rif for short
if you ain't living for Christ I'm a inspire you to start
I'm going from, glory to glory to glory to glory
to represent Christ is to represent glory
visions come to past
in the name of Jesus, Rif shall outlast
I approach the mic with class and dignity
understanding, this here ain't about me
holy spirit is my guide Jesus is my teacher
God is my father soooo, I'm a sho reach ya
I'm bout saving souls
ain't no other goal
bringing millions to the kingdom for the one who rose
I'm chose
better yet, I'm one of those
illuminating this thang like light poles
call me Reliant this annointing gonna electrify
no need for drugs, the spirit gonna get us high
I'm looking forward to the next project. In the meantime, get you a copy.